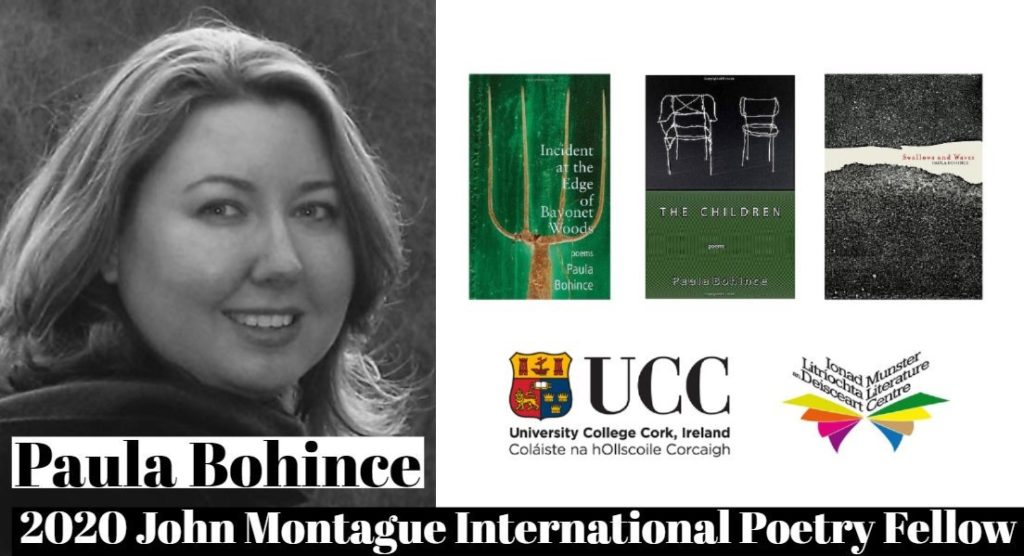 We are delighted to announce that the American poet, Paula Bohince, has been appointed as the 2020 John Montague International Poetry Fellow. Every year the Fellowship allows an international poet to reside in Cork for three months to focus on her / his writing, as well as enjoying and contributing to the literary life of the city.
Paula Bohince is the author of three poetry collections, all from Sarabande: Swallows and Waves (January 2016), The Children (2012), and Incident at the Edge of Bayonet Woods (2008). Her poems have appeared in The New Yorker, The New York Review of Books, Granta, POETRY, The TLS, The Irish Times, Australian Book Review, and elsewhere.
She has taught at New York University, the New School, The Poetry School, and elsewhere. She lives in Pennsylvania.
Ms Bohince will be teaching on the MA in Creative Writing from January – April and will also be giving a reading at the University (date to be announced). She will also be taking part in the Cork International Poetry Festival (March 25-28 2020) and will be mentoring two emerging poets over the course of her residency.
The fellowship is an initiative of the Munster Literature Centre and funded by University College Cork. It's named to honour the great Irish poet John Montague who lived in Cork and taught at UCC for many years.
– Find out more about Bohince from her website
– Read her poems in POETRY and Granta