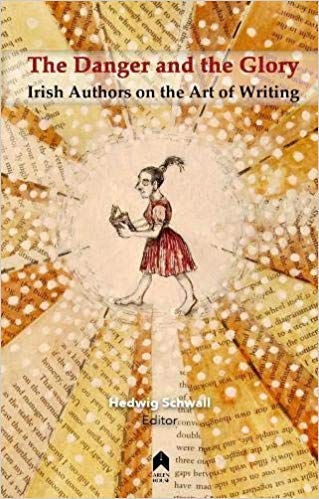 Associate Director of Creative Writing Mary Morrissy appears in this new anthology on the process of writing from Arlen House. The Danger and the Glory: Irish Authors on the Art of Writing is a fat volume – 450 pages – crammed with essays from 61 Irish writers documenting their writing experiences and their experience of writing.
The book was edited by Dr Hedwig Schwall, director of the Leuven Centre for Irish Studies and project director of EFACIS (European Federation of Associations and Centres of Irish Studies) – – and grew out of a website – https://www.efacis.eu/– where many of these essays first appeared.
The triggering inspiration for the project was "Fiction and the Dream" an essay by John Banville, who will be a visiting professor at the School of English in the coming year. Other writers with UCC associations who appear in the volume include William Wall, Billy O'Callaghan, Danny Denton, Mary O'Donnell, Glenn Patterson and Danielle McLaughlin. The introduction is by journalist and Seamus Heaney biographer, Fintan O'Toole
The book will be celebrated at a special event hosted by the IASIL conference – http://www.iasil.org/category/conference-2019/ – at the Burke Theatre, Trinity College Dublin, @ 5.30pm on Tuesday, July 23. The Irish ambassador to Belgium, Ms Helena Nolan, who supported the project, will attend as will John Banville, Fintan O'Toole and the volume's editor, Hedwig Schwall.
The cover image is by Belfast artist Rita Duffy.