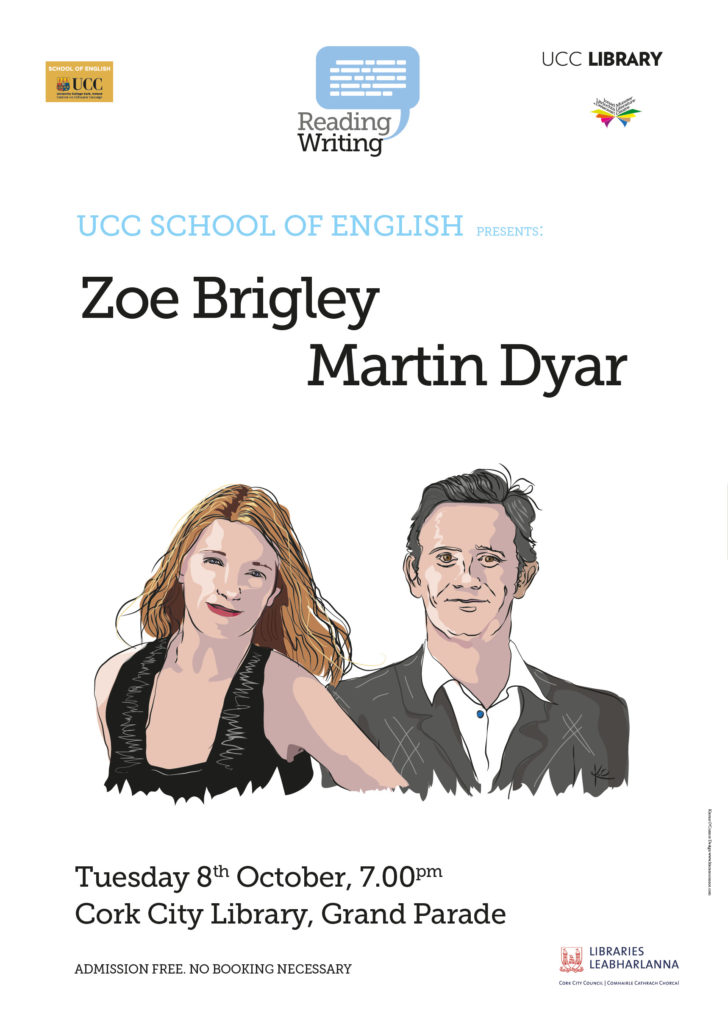 We'd love to see you downtown for the first event of the School of English Reading Series on October 8 with a reading by poets Zoe Brigley and Martin Dyar, introduced by our very own Leanne O'Sullivan.
As part of Community Week, and in association with Cork City libraries, this reading will be held off-campus at the Central Library, Grand Parade, Tuesday, October 8, @ 7pm.
This is a free reading and no booking is necessary.
Other readers upcoming in the series – John Banville and Billy O'Callaghan (November 5), Danny Denton and Sara Maitland (November 26) and Colum McCann (January 28, 2020).
Zoë Brigley is a Welsh poet, the author of three volumes: Hand & Skull (2019), Conquest (2012), and The Secret (2007), all published by Bloodaxe. She also has a collection of nonfiction essays, Notes from a Swing State (Parthian 2019).
She won an Eric Gregory Award for the best British poets under 30, and was listed for the Dylan Thomas Prize for the best international writers under 35. She is currently editing the Bloomsbury Guide to Poetry in the UK and Ireland.
Martin Dyar was born in Sligo and grew up in Swinford Mayo. His debut poetry collection Maiden Names (Arlen House) was shortlisted for both the Pigott Poetry Prize and the Shine/Strong Award in 2014. He won the Patrick Kavanagh Poetry Award in 2009, the Raftery Award in 2006, and the Strokestown International Poetry Award in 2001.
He was the Arts Council writer-in-residence at the University of Limerick last year.