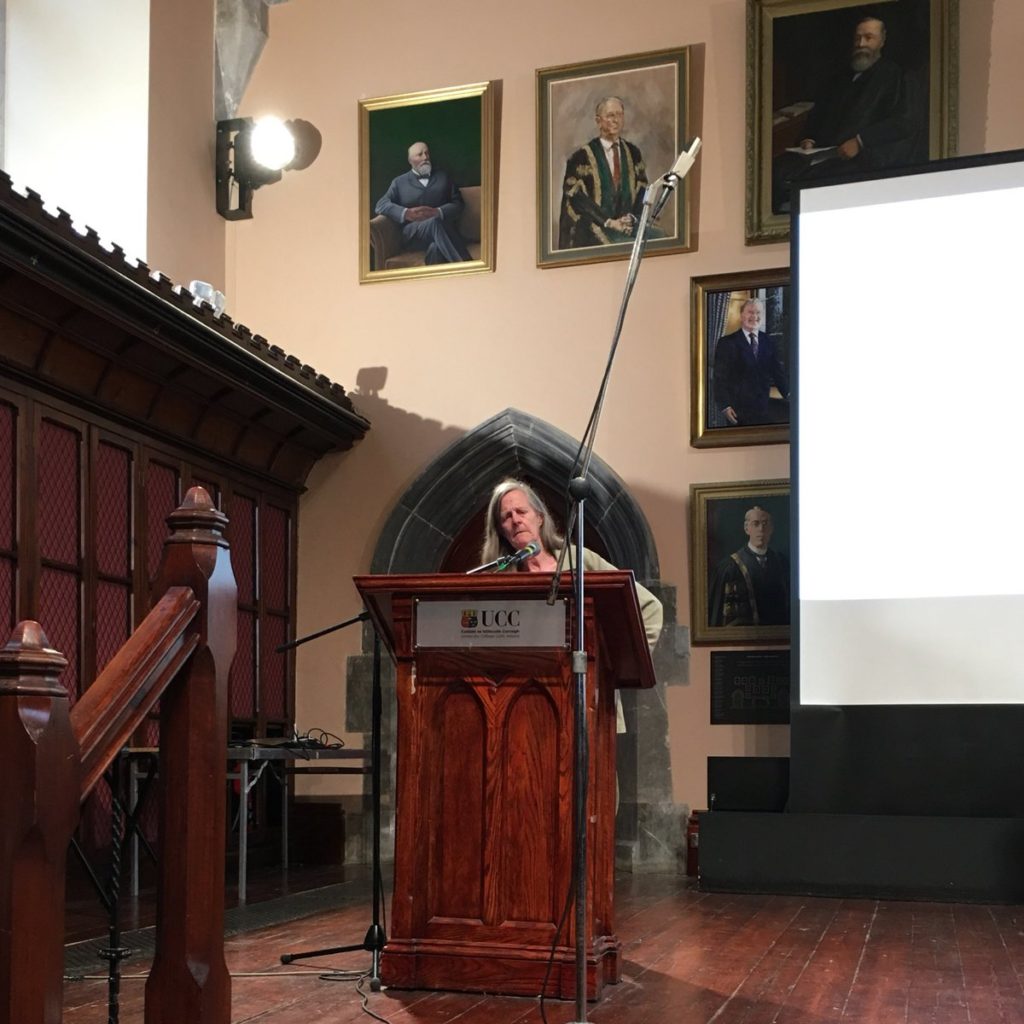 The readers in the final School of English Reading of 2019, Sara Maitland and Danny Denton, transported the audience to strange places, writes MA student Debra Fotheringham.
The physical location for Tuesday evening's reading with writers Sara Maitland (pictured above), this year's Frank O'Connor International Short Story Fellow, and Danny Denton (Arts Council/UCC Writer-in-Residence) was ostensibly in the Boole Library's Creative Zone on UCC campus on an absolutely lashing November night.
But audience members found themselves conveyed to much more interesting and harrowing climes: the top of a tower in an old growth forest, on the phone lines of a Cork radio station, in the back of a car with a disembodied head, and trapped amidst unspeakable violence and death inside a London theatre.
Danny Denton opened the evening with an excerpt from a work-in-progress. Denton's 2018 novel, The Earlie King & The Kid In Yellow, was published by Granta Books and nominated for Newcomer of the Year at the Irish Book Awards. He has widely published in The Irish Times, Southword, The Guardian and The Stinging Fly, where he now serves as literary editor. Denton is a Cork local, originally from Passage West.
Denton's excerpt carried us through a mesmerizing dreamlike sequence of narrative voices via phone calls placed to the radio talk show of one Cork DJ, Tony Cooney. Denton ended the passage with the voice of a female caller, as she recounted a near-death experience at a London theatre when shooters storm the auditorium and gun down audience members. Denton's description of the "gentle murmur" of the chorus of vibrating phones, as the loved ones of the dead and dying attempted to get in touch, was particularly haunting.
This year's Frank O'Connor Fellow, Sara Maitland, is the author of six novels and several collections of short stories. Her first novel Daughter of Jerusalem won the Somerset Maugham Award in 1979. Her most recent collection, Mosswitch and Other Stories, was published in 2013 by Comma Press. She currently resides in a home she built on the Scottish moors above Stranraer near Galloway.
Maitland read an audience-requested story from her 2012 collection, Gossip from the Forest: The Tangled Roots of our Forests and Fairytales (Granta). Her take on Rapunzel is told from a first-person viewpoint of the sorceress who purchases Rapunzel from her parents for a handful of salad greens. Maitland, eyes half-lidded and head held aloft almost as if reciting from memory, shared with us her lovingly crafted tale of avarice, stolen love, and impulsive and violent revenge.
If there was a unifying theme in the Tuesday's readings, it was the importance of place, the setting that informs character motivation and action, in the works of the two writers. In the Question and Answer session after the reading, moderator Mary Morrissy, Associate Director of Creative Writing, asked the two writers to talk about the importance of place in their own work. Denton, after some thought, recounted his fascination with the theory of non-place posited by French anthropologist, Marc Augé.
In our modern existence we spend most of our time in-between places, in spaces like airports, bus terminals, and virtual spaces rather than in what Denton called the "twig snapping and crackling, windy world". Augé's theory of "non-place" made him more conscious of wanting to create a world in his own work that you could "live and breathe in".
Maitland, who has a preference for isolated places, deserts and moors, had a different response: "As we become more mobile, long-traveling, more distant, place becomes the new mystery that engages the imagination because you can go any place."