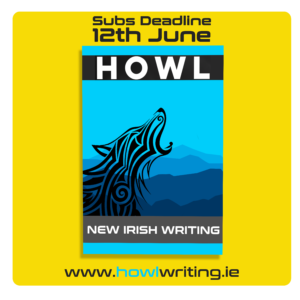 HOWL New Irish Writing is calling for submissions for their exciting new publication!
What we're looking for
HOWL is a literary platform showcasing the creative wail in Irish writing from around the world. We want the raw and the real. If it excites you, we want you to send it to us. We accept poetry and prose (fiction and non-fiction). We also accept original photography and artwork for use in our print publication and/or website. Send your submission to: howlwriting@gmail.com
Guidelines
​

​
Poetry and prose are as long as they need to be.

Send us your unpublished work: up to three poems, one piece of fiction, one piece of non-fiction, and/or up to three images for photography or artwork.

Ideal submissions contain the following information:​

Submission document (.doc, .docx, .txt, .rtf, .pdf, .jpg)

Author bio up to 100 words (optional)

Brief note explaining why you identify as an Irish artist (e.g. Irish citizen, Irish diaspora, Irish resident, Irish emigrant/immigrant, etc)

Submissions are open from May 1st 2022 – June 12th 2022.

Unfortunately, we cannot offer payment for accepted submissions at this time. We are working hard to change this.

We will send a print copy of the final publication to all selected contributors.

It makes our life much easier if:

All poems are sent in a single document with each poem starting on a new page

Submission category is the subject line of email submissions

Submissions in different categories are sent in separate emails

Fáiltímid roimh obair as Gaeilge.

We are happy to accept simultaneous submissions. Please let us know if your work is accepted elsewhere so we can congratulate you!

We aim to make all final selections by the end of August, 2022.

We ask for first publishing rights for any selected pieces to publish in our first print issue in Autumn 2022, and additionally to post select pieces on our website. This means that the piece (poem, prose, image) must not have been published before in a print or online publication (we don't mind about social media).

Copyright remains with the original author/artist at all times.

If you have any questions you are welcome to contact us at: howlwriting@gmail.com ​
About HOWL New Irish Writing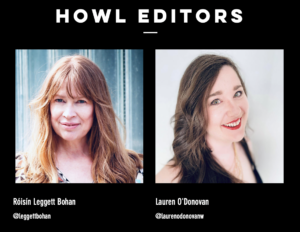 Lauren and Róisín met while studying for their MA in Creative Writing at UCC. They quickly found they shared a wild enthusiasm for curating new Irish writing. During their first shared lunch, the seeds of HOWL were planted, now coming into bloom three years later. During that time, Lauren and Róisín achieved their degrees, edited and launched The Same Page Anthology, and have been mentored by many excellent writers and editors, including author and past-editor of The Stinging Fly, Danny Denton; poets Afric McGlinchy and Matthew Geden; author and scholar Eibhear Walshe; short story writer Alannah Hopkin; and author and Banshee editor, Eimear Ryan— all extremely generous with their knowledge and time.
HOWL is a platform for Irish writing from home and abroad. Both Lauren and Róisín have spent significant years living outside of Ireland, and have a deep appreciation for how complicated and borderless Irish identity and creativity is. In HOWL, they have created a publication that celebrates not only the spectacular writing coming directly from Éire, but also from Ireland's children scattered to all corners of the globe. As writers sending out their own work to journals and publications, Lauren and Róisín are keenly aware of the effort, time investment, and vulnerability that goes hand-in-hand. Their core philosophy is that as editors of a literary journal they have a duty of care to submitters. Their aim is to nourish the link between writer and editor, ultimately showcasing unique work that is raw and real.
HOWL is lucky to be hosting Creative Writing MA students for their work experience in 2022. Lauren & Róisín are delighted for the opportunity to continue their connection with University College Cork (UCC).