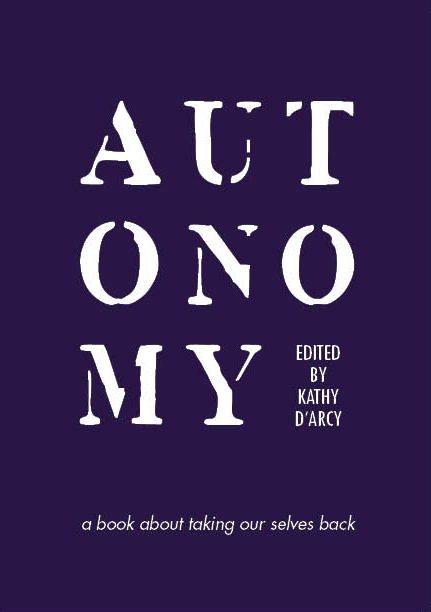 Congratulations are due to PhD creative writing candidate, poet Kathy D'Arcy – http://www.kathydarcy.com – the editor of Autonomy, a women-led collection of creative writing on the theme of bodily autonomy, just published by New Binary Press.
The anthology features poetry, essays and fiction from over 50 women writers, including Nuala Ni Dhomnaill, Ursula Barry, Angela Carr, Eleanor Hooker, Sarah Clancy, Elaine Cosgrove, Grace Wilentz, Sinead Gleeson, Tina Pisco, Emer Martin, Claire Hennessy and Anna Foley.
The idea for Autonomy, Kathy says, came from her experiences of teaching creative writing, and working with silenced communities and especially with women. "I've seen the power of story and human experience to change hearts where anger and even facts do not. I believe that anyone who reads these stories about real people struggling to be true to themselves and their values, to survive for their families, to take back their bodies, will come to understand that."
The Irish Times described the book as a "fine and surprising collection of voices: academics, journalists, playwrights, poets and fiction writers of LGBT+, Traveller and migrant communities".
Profits from the sale of Autonomy will go to support those working to ensure that "all women have access to the full range of reproductive healthcare, including safe, legal abortion", according to New Binary Press. – https://www.facebook.com/NewBinaryPress/
Autonomy: A Book About Taking Our Selves Back will be launched in the School of English Social Area, O Rahilly Building, Thursday, April 19th@ 5pm. All welcome.