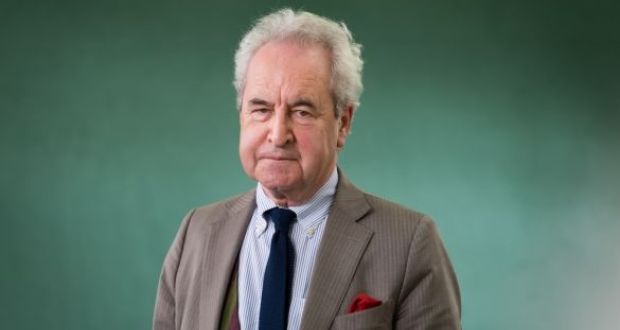 John Banville is the Visiting Professor of Creative Writing at UCC. He is the author of over 20 works of fiction, including the Booker Prize-winning The Sea. Under the pseudonym Benjamin Black, he has written seven crime novels, the latest of which, The Secret Guests, was published in January. His reading with Catherine Kirwan on March 24 had to be cancelled due to the COVID-19 virus. Here he writes about another period of self-isolation and the first glimpses of a different kind of virus.
UNDERNEATH
As this time of isolation goes on, I am reminded of the couple of months I spent at the University of Chicago in the autumn of 2016. I was there to conduct a seminar on the novels of Henry James, at the splendidly named John U. Nef Committee on Social Thought—alumni include T.S Eliot, Saul Bellow and Leszek Kołakowski.
My accommodation was a spacious upper room in a fine old townhouse on campus, in the bosky neighbourhood of Hyde Park. There was one pub within my range, a melancholy dive that I shunned, while the only restaurant deserving of the description was a forty-minute walk away—it was all right going there, but the return tended to be a little wobbly.
The first American campus I knew was Berkeley in 1968. Times have changed. Hyde Park in 2016 was as quiet as a Sunday evening in Belfast. My days, then, were uniform, tranquil and uneventful. I lost track of the days of the week. I woke, I wrote, I ate a sandwich, I wrote, I ate a bowl of spaghetti, I read, I had a drink, I went to bed. One morning my eyelids snapped open and I said aloud to the ceiling, 'I know what this is—this is Groundhog Day!'
A virus was rampant in that time, too. I had seen the early signs of it throughout October. People shouting racial slurs at each other in the streets. Hate-filled insults were hurled back and forth in political debates. Shameless lies were broadcast as television news, by journalists, or 'journalists', who should have known better. The world according to Fox News as against the world according to CNN. One afternoon, sitting in a taxi stopped in traffic, I saw a white man, purple with rage, leap from his car and stride back past a line of no fewer than six vehicles to deliver a kick to the door of a pick-up truck driven by a black man.
I recall the first time I heard the term 'alternative facts' spoken by a political adviser—on CNN, in fact, not Fox. It was a stroke of genius, I thought—worthy of Joseph Goebbels or one of Lenin's useful fools.
The populist epidemic reached its crisis point in the United States on November 9th, 2016. Never in recent times had a presidential election so sorely infected the nation. And like all viruses, this one spread rapidly, not only within America but across the world. Populism is not a pandemic—see the Irish leader Leo Varadker's television address to the nation on St Patrick's Day, a model of dignity and restraint—but the infection lurks within the body politic everywhere, biding its time.
Blaise Pascal contended that all of humankind's problems stem from man's inability to sit quietly in a room alone. Everywhere today there are people in rooms who have no intention of keeping quiet. As Dostoyevsky's Underground Man observed of his kind, 'Though we may sit forty years underground without speaking, when we do come out into the light of day and break out we talk and talk and talk.'
John Banville
TOMORROW: "The Day Daddy Cried" by Margaret O'Driscoll and "Rear-View Mirror" by Peggy McCarthy