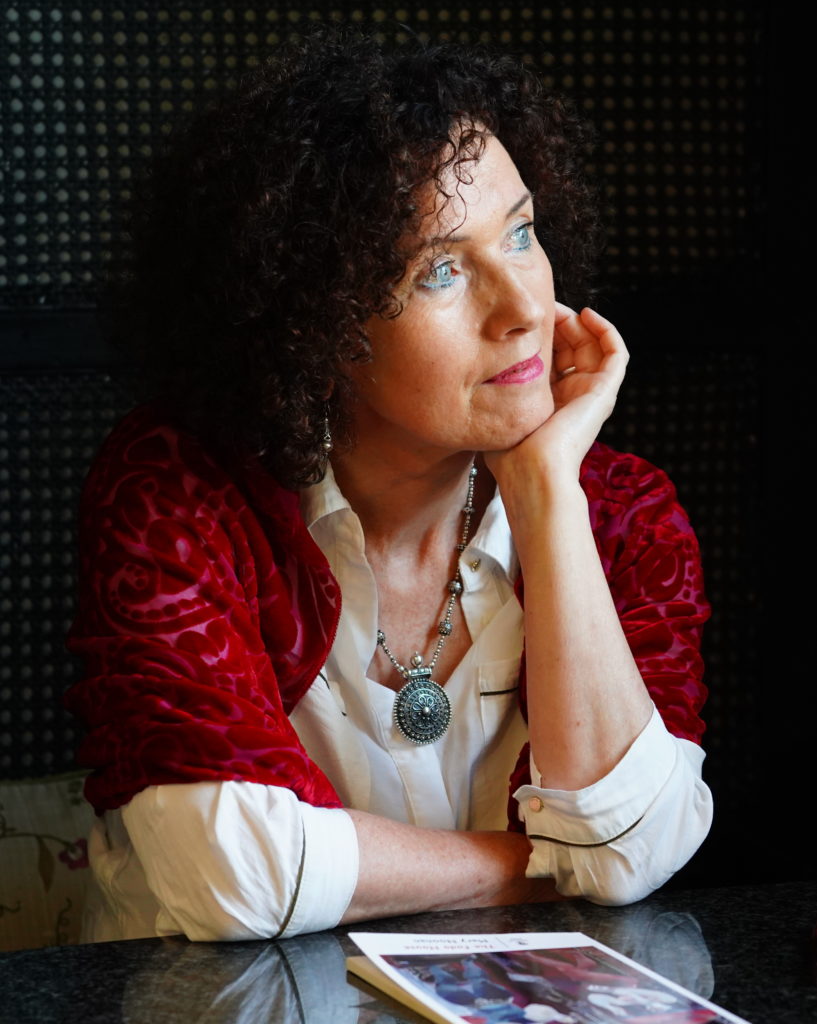 Mary Noonan is the author of two collections of poetry – The Fado House (Dedalus, 2012) and Stone Girl (Dedalus, 2019). She teaches French literature at UCC. She offers a "dream of the Mediterranean, now that we're all trapped at home!" Breda Joyce, who graduated from the MA in Creative Writing earlier this year, revisits a hospital in the past.
Somewhere Else
it's a cold Spring, three cormorants
are flying in, maybe, to huddle on a
rainy weir, but here, at the Wednesday
market, it's fat strawberries from the garrigue
and golden onions with wild green hair
and inky octopus lolling on reefs of scarlet
bell peppers. Through dapple-dapple lime-
green freckles flickering on piebald bark
and limestone clock-towers and fountains
we drive, stopping at the sign of the scallop-
shell of Saint James to drink the citrus wine
and eat the sweet oysters of Bouzigues.
In the streets of Sète, a seagull presents
himself at locked glass doors – knock,
wait, hop on, dome-headed pilgrim!
Are you looking for your mate? She's been
snared in nets, bamboozled by the oysters,
the lake's slinky contortionists, shimmering
under water on their salty daisy chains.
Gull cries follow us. Somewhere else,
three cormorants are raising a black flag
above an icy river.
Mary Noonan
* garrigue: scrubland in the Mediterranean region
Visiting Rite
I was four and my brother nearly two and I squeezed
my mother's fingers in the ward with the bad smell.
We found my brother red cheeked and crying in the corner,
hands raised about the gate of his cot.
My mother took an orange from a brown paper bag,
held its coolness against his raging cheek,
then peeled the hissing skin and sprayed
the air with a citrus mist.
She offered him a segment and my brother
squeezed its sweetness between his tiny teeth.
(I took one too, to show him what to do)
When visiting time was up my mother
unclasped sticky arms from around her neck,
laid down her little boy among the orange balls.
I saw tears in her eyes, and I blocked my ears
against my brother's pleading cries as from his cot
he threw each orange out between the bars.
Now it is my mother who stands inside a gate,
and from her doorstep looks out across
a vacant space. My brother tells her she will be ok
that he will visit soon again and wishes her
a happy Mother's Day.
Before he leaves, he leans across the gate
to place a bunch of tulips beside a bag of oranges
on the other side.
Breda Joyce
TOMORROW: "Home" by Mark Kelleher and "Expiry Date" by Mary Morrissy