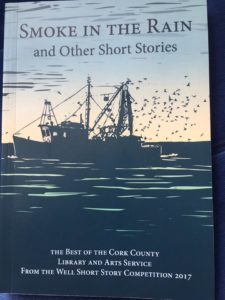 The MA in Creating Writing is well represented in this year's From the Well competition anthology. Tadhg Coakley – https://tadhgcoakley.com/ – and Nora Shychuk– https://www.linkedin.com/in/nora-shychuk-1bb3565b/ – from the 2015/16 MA class, both have stories in Smoke in the Rain, which was launched in Cork last night. From the Well is a short fiction competition sponsored by the Cork County Library and Arts Service and the winning and shortlisted stories are published together in this annual anthology.
The contest was adjudicated by writers Billy O'Callaghan, Claire Kilroy and Eimear Ryan, the editor of the Banshee Journal – http://bansheelit.tumblr.com/.  The outright winner was local writer Anne O'Leary, whose story gives the collection its title. Other featured writers include UCC alumna Catherine Kirwan, whose work has appeared in Quarryman, UCC's literary magazine, and who has just signed her first book contract for a crime novel set in Cork.
In other publishing news, another 2016 graduate, Robert Feeney, has had two short stories from his thesis collection published.  "Among the Blue Trees" is in the current  edition of The Galway Review  – https://thegalwayreview.com/ – and "Outside" will appear in the launch edition of the Shanghai Literary Review – https://www.shanghailiterary.com/.