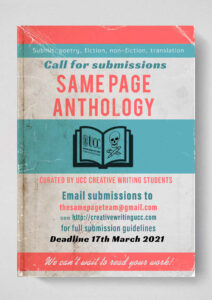 Call for Submissions
The Same Page is a Cork-based print anthology curated by UCC MA in Creative Writing students. We are currently working on a publication and have a particular interest in publishing poetry, short stories, and creative non-fiction.
                            Title: Blue Is The Colour Of Distance
                 Work on all subjects welcome or use the title as a prompt.
The submission deadline to be included in the 2021 Anthology is March 17th.
If you would like to submit, please consider the guidelines in full.
Submission Guidelines
What We Publish
We publish new, previously unpublished work: a mix of poetry and fiction, alongside works of non-fiction. We also welcome submissions of poetry and prose in translation.
How to Submit
Submissions should be emailed to the team before March 17th – contact details below
Submit all work as an email attachment in a word document (.docx) along with a brief author bio
Please Note
Submissions in more than one category are welcome
Each category submission should be sent in a separate email
Submission emails should be titled "Same Page Submission: Category"
Work must be previously unpublished and ideally should not be under consideration elsewhere. If it is accepted for publication elsewhere please notify us immediately – contact details below
For poetry submissions, send up to 3 poems. Poems should be submitted together in one single word document
All submissions are read. The editors' decision may not be correct but it is final. We aim to contact everyone within three months of the closing date
Copyright remains in all cases with the author. Some work published may also be included on UCC websites
Contact Details
Please send all submissions and queries to