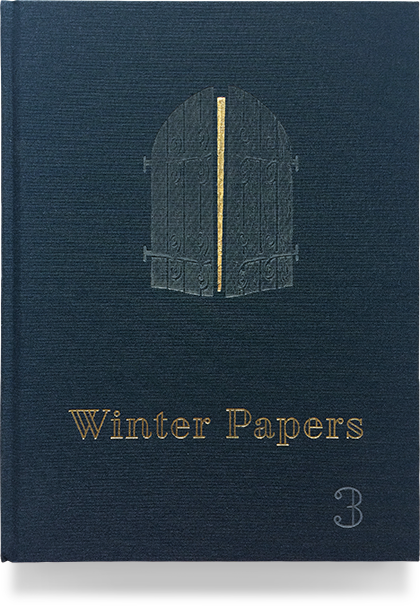 The third edition of the annual arts journal,  Winter Papers, edited by Kevin Barry and Olivia Smith, has just been published.
This year's Papers features work by Mary Morrissy, associate director of creative writing, William Wall ( PhD candidate in the School of  English),  Eimear McBride, Glenn Patterson, Claire-Louise Bennett, and June Caldwell among others. The trademark cloth-covered, thread-sewn hardback is designed, according to the editors, for aesthetic as much as literary appreciation; it's a beautiful object, in other words.
The journal has many Cork associations – including Barry himself who worked and lived in Cork for several years.  It is designed by John Foley at Bite! Associates  – http://bitedesign.com/ – and printed by Waterman Printers – http://www.watermansprinters.ie/ –  both Cork-based.
The journal will be celebrated on a special edition of "Arena", the RTE arts programme  – http://www.rte.ie/radio1/arena/ – this evening,  Monday, November 13 @ 7pm, featuring editors Kevin Barry and Olivia Smith, along with Sara Baume, Hugh O'Connor, Paul Lynch and Mary Morrissy.