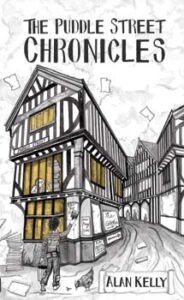 The Puddle Street Chronicles by Alan Kelly
London, 1610.Toby Sprocket and Sally Bunn, two 21st century teenagers, have accidentally travelled back in time four hundred years to the age of the first Stuart king, James 1st. Helped by two friendly strangers, they find themselves working alongside William Shakespeare and renowned theatre owner and actor Richard Burbage in the famous Globe Theatre at the very first production of The Winter's Tale.But the drama is not all on the stage. The two of them must fight an ongoing battle with a notorious and dangerous criminal who will ultimately decide their fate – to be or not to be!
Suitable for readers aged 9 to 12
Words to Shape My Name by Laura McKenna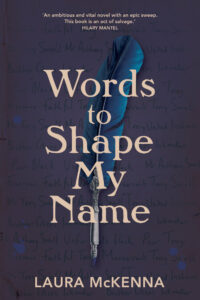 Seventeen years. We were together for seventeen years. I knew him like a Brother.
In a London graveyard in 1857, Miss Harriet Small is approached by a stranger with an intriguing gift for her. In the last will of a woman she barely remembers, Harriet has been left a collection of long-lost papers: her father's True Narrative of his years after escaping enslavement in America, and his close relationship with Irish revolutionary Lord Edward Fitzgerald.
Nearly sixty years earlier, in the aftermath of Edward's death and disgrace in the 1798 Rebellion, his sister, Lady Lucy, commissioned Harriet's father, Mr Anthony Small, to write about his life as Edward's manservant in the form of a 'slave narrative'. But what emerges from Faithful Tony's pages is Lucy's real motive (revealed in her notes and deletions) to restore Edward's reputation and his family's fortunes, as well as a complex, co-dependent and sometimes turbulent allyship between the two men. Tony gains opportunities to work, to prosper, to love, only to be powerless in preventing the devastating events that destroy his master. He learns that the quest to be truly heard is never-ending, and as heartbreaking as it is to read her father's words, Harriet comes to realise there is more than one way to be free.
Inspired by true events, from war in South Carolina to the genteel drawing rooms of Kildare, from the colonial politics of London to the intrigue and simmering resentments of Dublin, Words to Shape My Name imagines the powerful story that Tony Small might have told, one of hope, failure, resilience and an unbreakable bond.
A young Irish vagrant with a strange talent wanders Kew Gardens. She knows that the weather won't be dry tomorrow, and the impending rain casts her mind back to a riverbank, where a leery fisherman once asked her to turn and grab his net for him. It wasn't just the fish that he wanted to catch.
The same fisherman, years later, will run into a shy childhood friend and become smitten with his new wife. She is drawn to his boldness and his confidence – but is it enough for him? She will leave home for a walk one day and never return – and her husband's reveries will come crashing down.
In another time, in another place, a photographer notices two ghostly latent figures on pictures developed from his vintage reflex lens – a cheerful woman and a grizzled, intimidating man. The images become clearer with each expensive roll of film, but his dogged investigation of this mystery could cost him his livelihood and his love.
So spool out the lives in Catchlights: the past contains the present and future; shallow and deep acts of cruelty, love, selfishness and kindness reverberate for years, across continents. With each chapter conceived as a homage to a different Ladybird Book, Catchlights sets the innocence of childhood against the violence of adulthood, the joys of a passion against the horrors of an obsession, and the reality of death against the magic of life.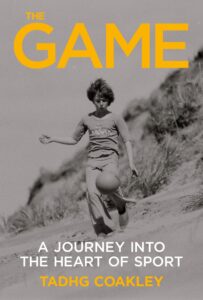 The Game by Tadhg Coakley
Why is sport so important to us?
Is it because we make it so important to us?
Something so silly and worthless, but at the same time so vital.
What's that all about?
The Game is a multifaceted reflection on sport. It is part memoir, outlining Tadhg Coakley's time as a player and fan, and how sport has shaped his life. But it also tackles sport on a universal scale – the good and the bad – and its immeasurable influence on our world.
For fans, sport can be all-consuming. Indeed, we are consuming sport in ever greater gulpfuls, often blindly. It has a dark side; it is rife with corruption, sexism, homophobia, nationalism and a raft of toxic masculine behaviour, and Coakley interrogates his own attitudes on each of these fronts.
On the other hand, sport builds all manner of valuable connections and communities, and in sport – as in art – people can forge their own identities with grace, imagination and the possibility of what may be. This duality is one of the most fascinating aspects of sport.
Written with warmth, openness and keen insight, The Game is an entertaining and thought-provoking meditation on the uniquely intense highs and lows of loving sport in today's world.
Irish Academic Press | The Game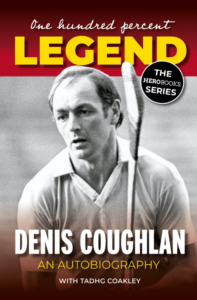 Denis Coughlan: One Hundred Percent Legend by Tadhg Coakley
The Autobiography of Denis Coughlan tells the life story of one of the greatest Irish dual stars. Denis played in an amazing 83 Cork county, provincial, All-Ireland, National League and Railway Cup finals, winning 56 medals along the way. He represented Glen Rovers and Saint Nicholas for over twenty years, winning Cork county, Munster and All-Ireland titles. He also represented Cork, winning five senior All-Ireland medals, four in hurling and one in football. And he won Railway Cup medals for Munster in both hurling and football.
But Denis's life story is much more than about sport. It spans a remarkable eight decades, covering many aspects of his life, his insights on sport and how games have changed dramatically over the years.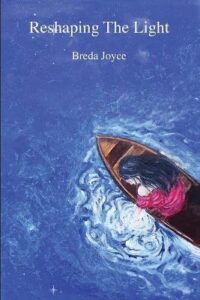 Reshaping the Light by Breda Joyce
RESHAPING THE LIGHT is a collection of rare, essential, high quality poems. Ranging widely, from childhood and family to war and Holocaust, Joyce's work here is saturated with a wonderful light. If 'a cherry tree still debonair // diffuses light in carmine reds' it is the light that flows also out of the wonderful Luciaand a light that 'releases fresh sea air' from the oyster shell in Pearls. Disciplined and understated, deeply felt but never sentimental, the poetry in this collection is polished, impressive, essential and necessary. Here is a poet who reminds us that time creates a unique signature in each of us; that though the tidings brought by poets may be frail as glass, they become, over time, stunning and permanent revelations. RESHAPING THE LIGHT is a significant achievement. – Thomas McCarthy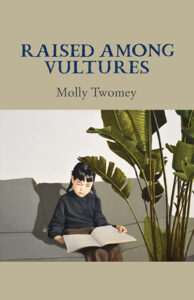 Raised Among Vultures by Molly Twomey
Such bold injunctions announce a formidable new talent. In Molly Twomey's spectacular, and frequently disturbing, debut seemingly nonchalant expressions of hard experience ('Over coffee I tell you I slept with some guy') meld with vivid imaginings. Excited hearts are 'bumper cars', a Coke is 'a huge cup of starless sky' and a radish is 'a red grenade'. In this world of Tumblr, online group therapy, NA and Touch ID, Molly Twomey's unflinching art chronicles a history of eating disorders and inner conflicts. These are frontline reports from the outposts of youth, 'nights / spent drunk with boys we could barely remember, / would never forget.' But Raised Among Vultures, while venturing that 'It's impossible to live without breaking someone', is also a book about longing and lessons — 'It took so long to learn that I won't die / if I sleep in.' In her first collection Molly Twomey breathes new life into Irish poetry.
The Cane in the Cupboard by Hailey Hughes
The Cane in the Cupboard is a collection of memoir essays that traces the arc of the author's life from childhood to early adulthood as a person who has Cerebral Palsy and siblings with disabilities.
This book is an examination of personal experiences through the lens of disability issues, such as: internalized ableism, caregiving, and the disability/ability binary.
The contents of this book are intensely personal and emotionally fraught. Equal parts scene, reflection, and commentary, these essays are explore a variety of subject matter that will encourage an audience to contemplate the complexities of family dynamics, self-image, and interpersonal relationships in general.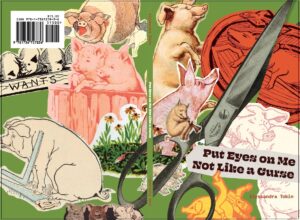 Put Eyes On Me Not Like A Curse by Alyssandra Tobin
Quarterly West Editors' Pick 2022.
"Eyes maintains a delicious velocity as it knits high and low, contemporary and historic, lyric and narrative — the immediacy and tender menace of these poems stood out from the very first round of readings." – Corley Miller, Chapbooks Editor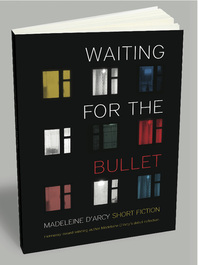 Waiting for the Bullet by Madeleine D'Arcy
This compelling collection presents twelve character-driven short stories that are set in London, New York and Ireland. The stories are populated with characters who are forced to deal with a multitude of problems: errant lovers, cheating spouses, dreadful dinner parties, difficult in-laws, secrets, lies, bereavement and the sadness of lost possibilities — not to mention urban foxes, a behaviourally-challenged cat, an ill-fitting Santa Claus outfit and a toy gun.
Madeleine D'Arcy Doire Press Website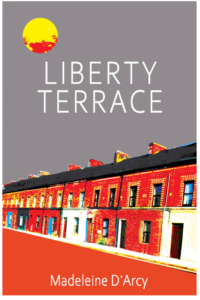 Liberty Terrace by Madeleine D'Arcy
This compelling collection presents twelve character-driven short stories that are set in London, New York and Ireland. The stories are populated with characters who are forced to deal with a multitude of problems: errant lovers, cheating spouses, dreadful dinner parties, difficult in-laws, secrets, lies, bereavement and the sadness of lost possibilities — not to mention urban foxes, a behaviourally-challenged cat, an ill-fitting Santa Claus outfit and a toy gun.
Madeleine D'Arcy Doire Press Website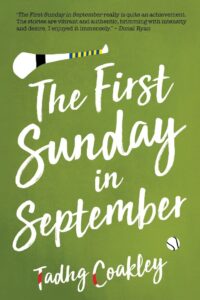 The First Sunday in September by Tadhg Coakley
It's the day of the All-Ireland Hurling Final. A hungover Clareman goes to Dublin, having remortgaged his house and bet the last of the money on his county to win. An Englishwoman attends the final with her partner, wondering when to tell him that she's pregnant. A long-retired player watches the match from the stands, his gaze repeatedly falling on the Cork captain, whom he and his wife gave up for adoption years earlier. Clare's star forward struggles under the weight of expectation. Cork's talisman waits for the sliotar to fall from the sky, aware that his destiny is already set.
The First Sunday in September Mercier Press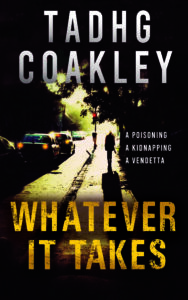 Whatever It Takes by Tadhg Coakley
Set in Cork city, Detective Garda Collins is at war with the leading local criminal, Dominic Molloy. Unwilling to accept the human degradation caused by Molloy's drugs, violence and prostitution. He has made up his mind to bring Molloy down, but just how far is he willing to go to make that happen? What is he willing to do and what fall-out will ensue for himself and his garda colleagues? This tense crime novel (the first in a series featuring Collins) tells the story of two immovable forces colliding. Something has to give. Running out of time before the murder of two teenagers becomes inevitable, and with a traitor in the garda station feeding information back to Molloy, Collins takes his battle to new heights. He is determined to win, whatever the cost, whatever it takes.