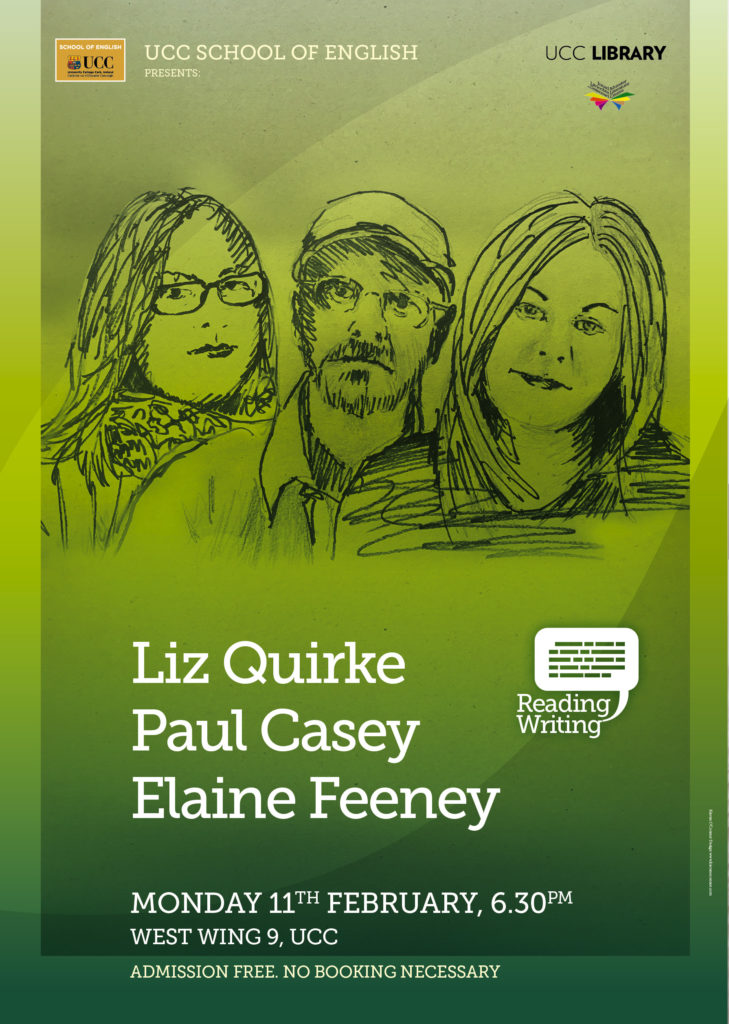 MA student Niamh Twomey writes about the February School of English reading. Poets Paul Casey, Elaine Feeney and Liz Quirke brought the audience on a journey from Nelson Mandela's release, through the pages of a Leaving Cert History book to the depths of human grief.
The reading began, as all good readings should, with a Cork poet. Paul Casey is the author of two poetry collections; Home More or Less (2012) and Virtual Tides (2016). He has also edited numerous anthologies such as the recently published 'A Place Called Home'; a collection of poems and stories written by international writers who have made Cork their home. He is best known as the founder of Cork's weekly poetry event 'Ó Bhéal' (every Monday at 9:30pm in the Hayloft above The Long Valley bar).
He opened, quite fittingly, with two poems dedicated to Nelson Mandela on this, the 29th anniversary of his release. His following poem "International Citizen" spoke to a universal anxiety around labelling people by their race. Yet of course, as a true Corkonian he couldn't do a reading without mentioning our home by the Lee. His poem about the Elysian brought smiles to the faces of everyone who has shopped in Aldi or spotted its distinctive spike from across the city.
Next up was Elaine Feeney. Heralding from Galway, she has published three books of poetry; Where's Katie? (2010), The Radio was Gospel (2014), and Rise (2017). Her work has been translated into twelve languages and she has most recently turned her attention to writing for the screen.
She opened with a poem about horse dealers which made our skin crawl, before characteristically delving into a commentary on the female position with her poem "Pity the Mothers". Her hilarious introductions were almost as captivating as her brutally honest poetry. The following poem, she explained, written on request for her Liverpool-supporting son was entitled "Ryan Giggs is a Ride". Her final poem was the pinnacle of her stunning performance, however. The long poem, "History Lesson", written in response to the glaring lack of female figures on the Leaving Cert History course, carries the audience from sharp ironic facts to heart-wrenching stories of the speaker's ancestors. "I spent one full hour convincing some friends that women / said poems in Ireland before / Eavan Boland. The women friends are suspicious. / They have English degrees." The audience was transfixed.
The final poet of the night was Liz Quirke, who published her groundbreaking debut poetry collection The Road, Slowly in 2018. Originally from Tralee, Quirke now lives in Spiddal, Co. Galway with her wife and family. She has had works published in journals such as New Irish Writers, The Irish Times, The Irish Examiner, Southword and Crannóg. She is currently working on her second collection of poems as part of her PhD in NUI Galway.
She began reading from her debut poetry collection, The Road, Slowly, which thoughtfully articulated her family relationships; how parenthood can take over and the struggle as the mother who doesn't carry her child; « I am your mom without the biology of mothering. / All I have for you is my heart, my brain, my lists of things, / all but those nine months when I was waiting."
For the second half of her reading she honored us with a sneak-peak of her next collection. The problem with PhD students, she told us, is when you ask them what they're working on they'll tell you. But no one was complaining. These poems delved unapologetically into loss and grief. Drawn from the tragic death of a sister at a young age and the passing of her father; the speaker in her poems was laid bare in front of our eyes in West Wing 9.
As the reading came to an end the audience trickled out, awestruck. Paul Casey shone a light on the connection between place and identity. Elaine Feeney humorously highlighted the lack of female voices in our History books. While Liz Quirke's deeply personal poetry dealt with the struggles of a lesbian mother and the heartache surrounding the death of a loved one. This powerful group of contrasting yet equally spectacular poets made last Monday a night to be remembered.