Good news on the publishing front for Diarmuid Hickey, whose story "Ambulance Man" is to appear in the September issue of Banshee – https://www.facebook.com/bansheelit/. Diarmuid is currently an MA student completing his thesis. Robert Feeney, MA graduate (2015/16) and now signing up for a creative writing PhD, has also had a story, "Tessellation", which was part of his MA thesis work, published in issue 19 of the Five 2 One magazine.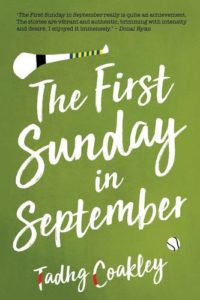 Meanwhile Tadhg Coakley's debut novel, The First Sunday in September, will be launched on August 16, coming from Mercier Press. https://www.mercierpress.ie/authors/coakley-tadhg/ This is the first novel to come out of the MA course so we're excited and proud about that. Tadhg's book will be launched at the Triskel Arts Centre.
Tadhg, who graduated in 2016, has been busy on the work, a novel in stories, part of which he presented for his thesis under the supervision of writer and MA alumna Madeleine D'Arcy.