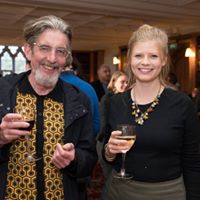 It is with great sadness that we note the death of John Rodgers, one of our MA in Creative Writing students (2017/18). John, pictured above with fellow student Nora Kirkham, had just started semester 2 when he was diagnosed with a serious illness and he didn't get a chance to finish his course or complete his thesis, although he continued writing till the end. His work was featured in the MA showcase event held in the Triskel Arts Centre in early May, read by his son Fionnbharr.
John was an enlivening presence on the MA, thoughtful, trenchant, with a dry wit, loved and respected by all; he will be greatly missed. Originally from Newry, John was based in Rostrevor, Co Down, but he had made his own of Cork. Both students and faculty on the MA take this opportunity to sympathize with his family and friends, in particular his son Fionnbharr, who became, through sad circumstance, an honorary member of the 2017/18 MA group.
Meanwhile, a friend of John's, Eamonn Rafferty, plans to collect John's writings for publication as a tribute to the work John did both on the MA and outside it.