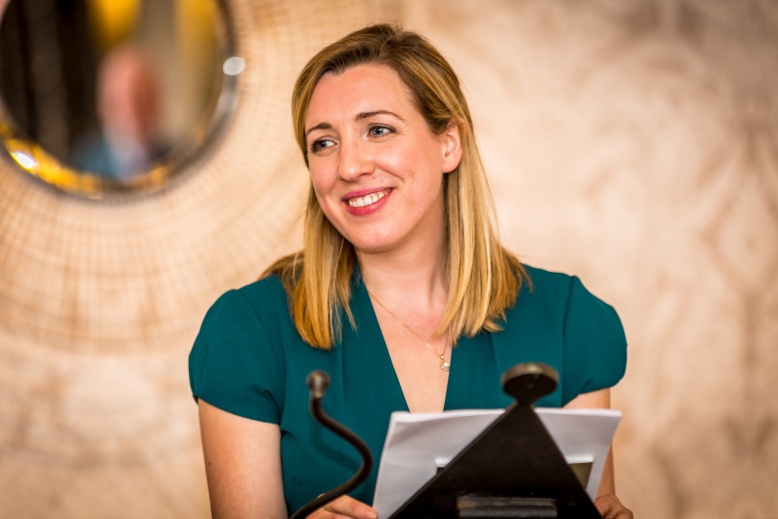 Ailbhe Ní Ghearbhuigh is an Irish language poet. She has published three collections in Irish, Péacadh (Coiscéim, 2008), Tost agus Allagar (Coiscéim, 2016) and her bilingual The Coast Road (Gallery Press, 2016). Ailbhe teaches in the Department of Modern Irish at UCC. In this prose poem she queries how to define the current lockdown – staycation or prison term?
Ailbhe has kindly provided a gloss below for those of us without fluent Irish.
éinín / francach
an éinín atá ag bíogadh sa sceach – nó francach
an staycation é seo nó tamall sa charcair
an leanfaidh an mhuir ag tuilleadh is ag trá
an gcífear go brách an samhradh bán
an fearr do ghnúis a chumhdach feasta
an bhfuil masc aghaidhe anois sa bhfaisean
an éisteann tú le bachlóga ag péacadh
bhfuilir gafa le bratbhuamáil an nuachta
ar thug tú leat do leabhar ciondála
an roinnfeá liom sciar den cháca
an dream béal dorais, ar thugais faoi deara
iad ag sárú rialacha oíche is maidin
seachain seanóirí agus seachain aosánaigh
fainic anois an tsíocháin bhradach
sáil agus barraicín timpeall an tí
bardaí an ospidéil ag cur thar maoil
bhfuil pictiúr den sourdough in airde ar Insta
is do chleachtas ióga ina údar gaisce
an luíonn an imní mar ualach ar d'ucht
bhfuilir ullamh don tubaiste atá le teacht
an raibh an ceart ag cearc an phrompa
nó an bhfanfaidh an spéir in airde tamall eile
– agus an baol dom thú a chréatúir, a dhuine?
Ailbhe Ní Ghearbhuigh
Gluais / Gloss
carcair: prison
an mhuir: the sea
do ghniús: your face
a chumhdach: to cover
bachlóga: buds
ag péacadh: blossoming / germinating
bratbhuamáil: brat = blanket; buamáil = bombing
leabhar ciondála: ration book
sciar: portion / piece
an dream béal dorais: the people next door
seanóirí: elderly
aosánaigh: young folk
bradach: false / untrustworthy
sáil: heel
barraicín: toe
bardaí: wards
ióga: yoga
cearc an phrompa: chicken licken
an baol dom thú: are you a danger to me
TOMORROW: "Mum and Jasper in the Morning" by Laura McKenna and "Sinkhole" by Bridget Sprouls