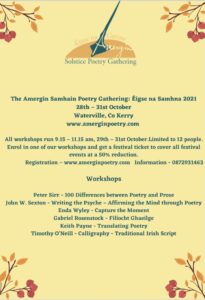 Featuring UCC School of English Creative Writing graduate, Paddy Bushe, the festival returns on October 28th-31st. In the words of the organisers – ' We are delighted to come ashore again in Waterville for our newly rebranded Éigse na Samhna. It may not be as bright and sunny as our previous June gatherings but we will fire up your creative juices with our excellent programme of events.
On offer we have events such as the Anthony Clare Memorial Session featuring June Shannon and local Cahersiveen Writers. We will have our Galician night of music and poetry, we will have talks on Migration and Identity and a wealth of readings from Ireland's most renowned poets such as Peter Sirr, Mary O'Donnell, Martina Evans, John W. Sexton, Gerard Smyth, Enda Wyley and many more.
We also will have three mornings of fantastic workshops on topics such as Translating Poetry with Keith Payne, 100 Differences between Poetry and Prose with Peter Sirr, Capturing the Moment with Enda Wyley, Writing the Mind with John W. Sexton, Filíoct Ghaeilge with Gabriel Rosenstock and Calligraphy with Tim O'Neill.
Four days of poetry and song between the Kerry mountain and the sea. Feicimind ann thú!
Full information available on www.amerginpoetry.com
Full pass to all events is €80. Day Tickets cost €30 each. Workshop fee is €60 and workshops participants can enjoy all the festival events at a discounted rate of €40. Visit our website to get your ticket today'