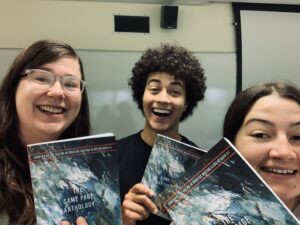 2020/21 UCC Creative Writing Students Lauren O'Donovan, Mahito Henderson, and Rosa Mäkelä 
The Same Page Anthology, the newest literary publication out of Cork, was curated and edited by the 2020/21 UCC Masters in Creative Writing Students in lieu of traditional work experience which was unavailable due to COVID restrictions. The anthology is available online at https://www.thesamepageanthology.com/ and in select bookshops across the country. All profits from the sale of The Same Page Anthology are donated to The Sexual Violence Centre, Cork.
Congratulations to all involved !